Getting to Heaven on Earth
December 6, 2012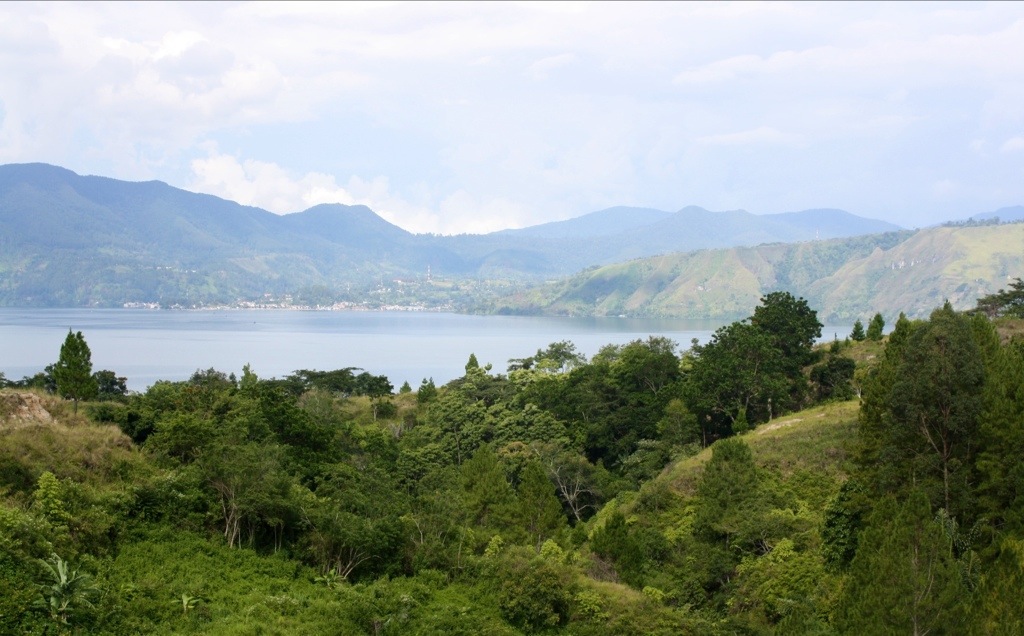 Samosir is an island on Lake Toba, which is one of the deepest lakes in the world. It was formed due to a catastrophic volcanic explosion about 70,000 years ago. This perfectly formed island in the middle of the lake is the largest island on a lake on an island in the world.
How about them apples? As soon as our nerdy ears heard about such place hidden deep in the Indonesia's largest island of Sumatra, we had to discover it for ourselves. I've estimated that it would take you approximately 42 hours to travel to this secluded island if you were to travel there from New York City. Luckily, we were traveling there from Bali but it still took us an entire night and a day to get there. We took a redeye with a layover in Jakarta, the capital of Indonesia, on our route to Medan, the capital of North Sumatra. Medan's population is comparable to that of Chicago, yet I've never heard of this city prior to our trip. Perhaps my ignorance can be excused due to the lack of attractions or beauty that this city possesses. It is a rather large, gloomy metropolis with a ton of traffic and crammed, practical buildings.
Once you've made it to Medan, that's only the begging of the trip to Samosir. Polonia (Medan's airport) is tiny and if you arrive there in the early morning, like we did, you won't find anything open let alone an information desk. Luckily we did some research prior to our arrival in Polonia. We found the following options for getting to the small town of Parapat, which still not the final destination but a port where you can catch a boat to Samosir:
Fly + Taxi: daily flights on Susi Air, which would cost about $40 USD one way to Silangit. We'd still have to catch a taxi to Parapat, which would cost another $30 USD. Total travel time to Tomok: ~2.5 hours.
Minivan: this option allows you to split a minivan-taxi with a few strangers headed the same way. These don't leave until they get filled up but they will take you the whole way to Parapat. This option will put you back only $7 USD/person. Total travel time to Parapat: ~ 6 hours. This is the option we chose on our way back.
Public Bus: a crowded, non-AC and slow moving option but it's a perfect choice for a hard-core budget backpacker. To do this, you'll have to switch buses at least once but you can get to Parapat for only $2.5 USD. Total travel time to Parapat: ~7 hours.
Hire a driver: the option we chose on the way there. As you walk out of Polonia, you will be greeted by a slew of taxi drivers eager to take you to Parapat. They know exactly where you are going and where to drop you off. Given that we arrived at dawn and extremely tired, that's the option we chose. After some negotiation, we splurged and spent a total of $65 USD for a 5 hour relaxing drive to Parapat, which is a cost of a cab from O'Hare to downtown Chicago.
Ok, almost there! Now, you're in Parapat and you can see the water. It's ferry time for the long-awated Samosir island and the little town of Tuk Tuk. It's worth all this, I promise.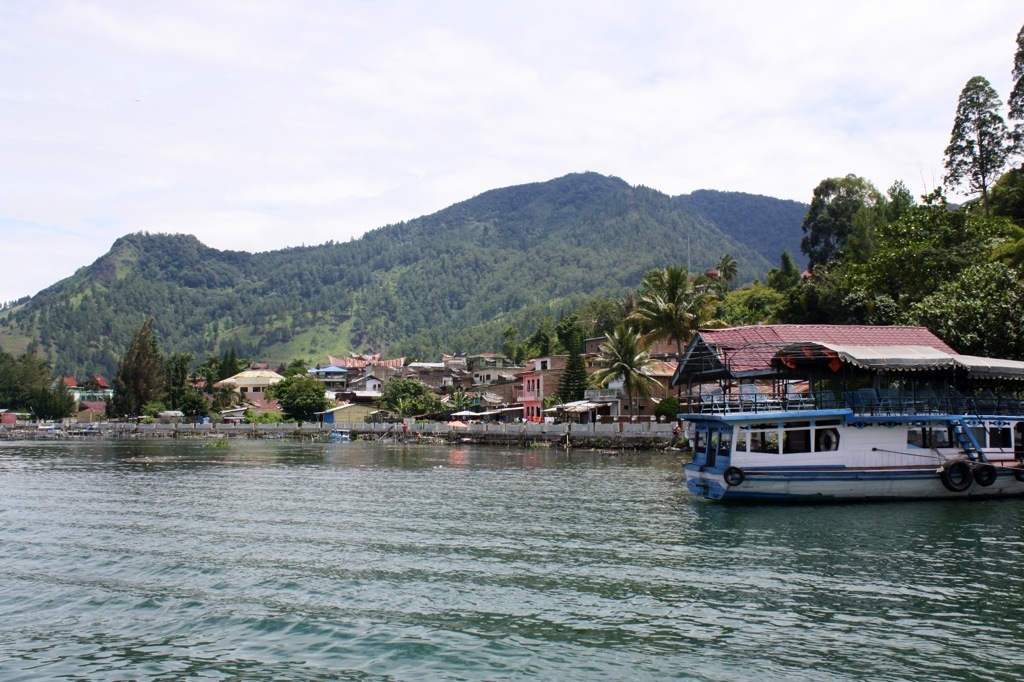 The ferry takes about an hour and costs a whopping $0.73 USD. It's a bargain! While had a very pleasant, calm ride there, you may want to bring a sea sickness baggie or hold on for your life if the weather is stormy. Unfortunately, that's exactly what we faced on our way back and the boat nearly tipped over due to huge waves. We both freaked out. Really, it's still worth it!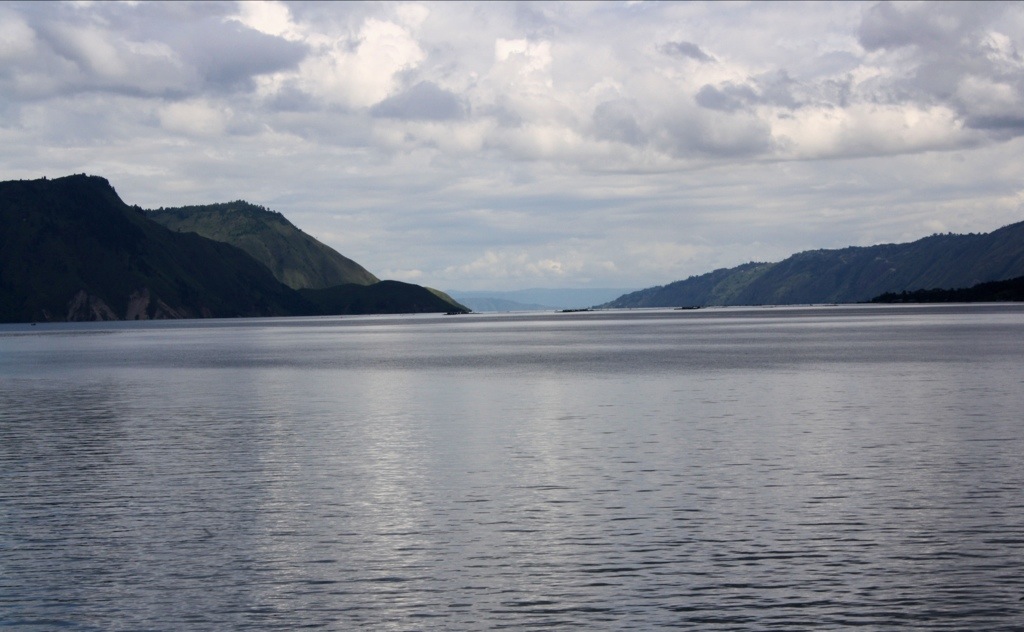 Finally, you arrive at Tuk Tuk. Right away, you are transformed into rural, real Indonesia – you are not in Bali anymore. It's green, calm and beautiful.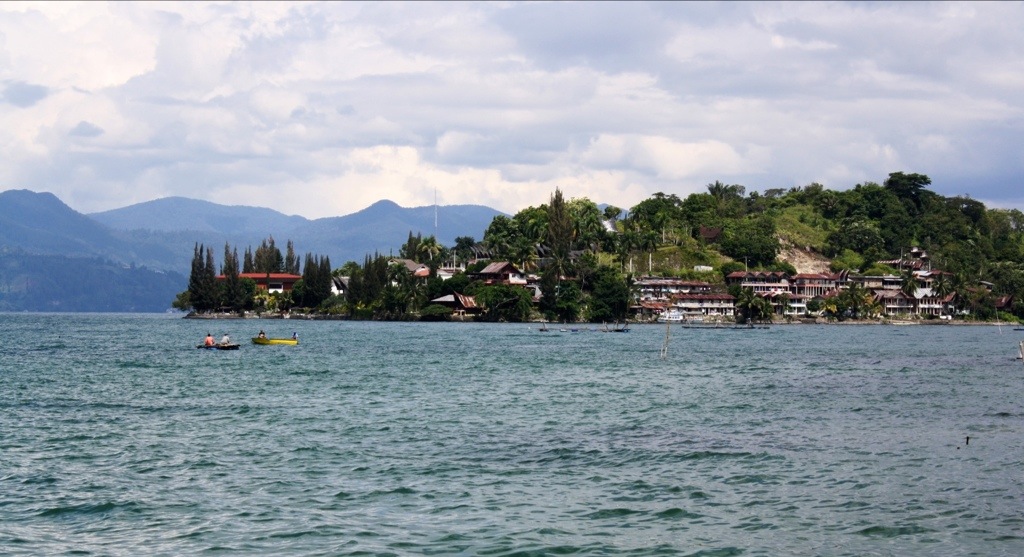 We still weren't at our destination given that we decided to stay at Mas Cottages, which we highly recommend. More on that in a minute.
The owner and operator of Mas Cottages and one of his co-workers picked us up on their…scooters! Yes, it was Aaron and his backpack riding with the owner on one scooter and me with my huge backpack riding with his co-worker. I wish we would have captured all of this but there was no time as they zipped off to our hostel. I was immediately intrigued by this island as we rode through it heading to another temporary home base for us.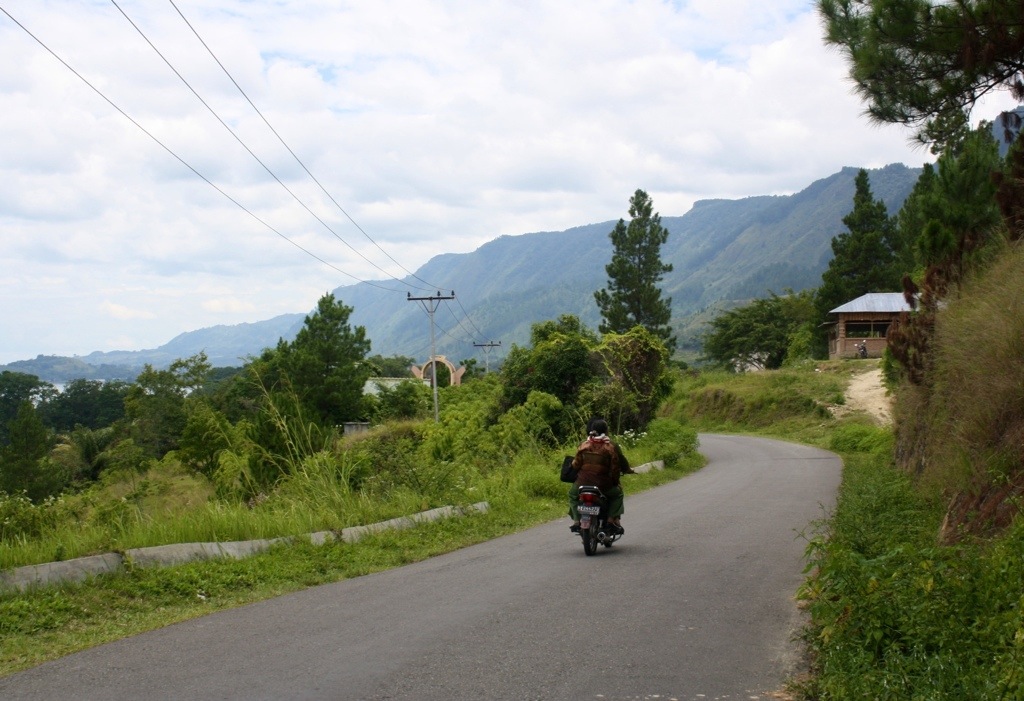 Our room was basic and modest but had everything a backpacker desires: perfect location, the view (wait for it), hot shower and a comfortable bed. We were happy.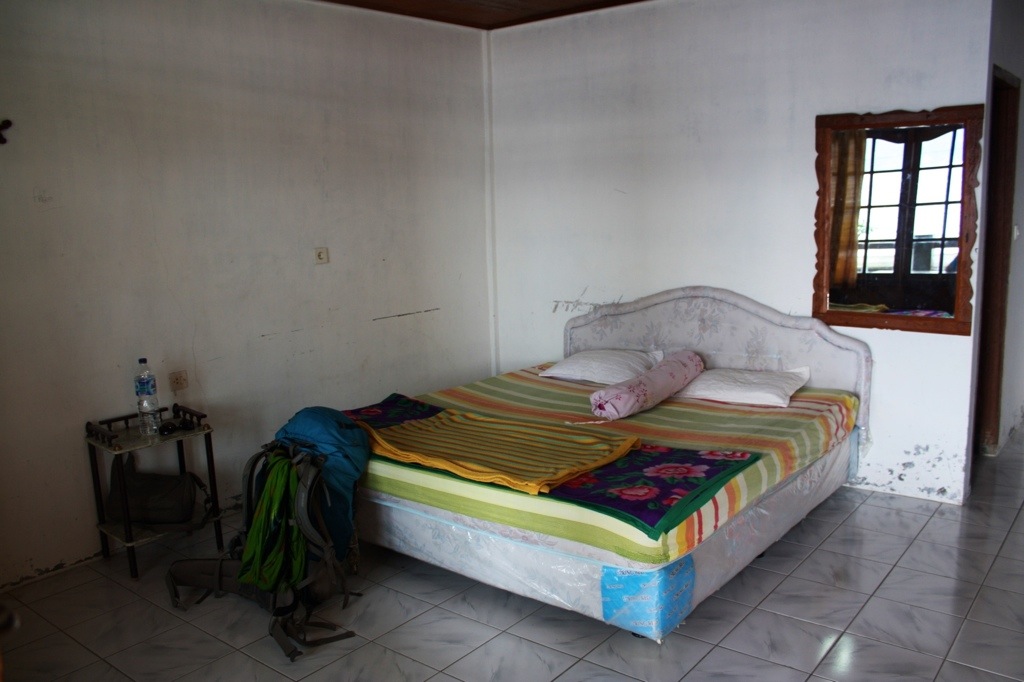 About that view: we were ON THE LAKE! It was literally outside of our room.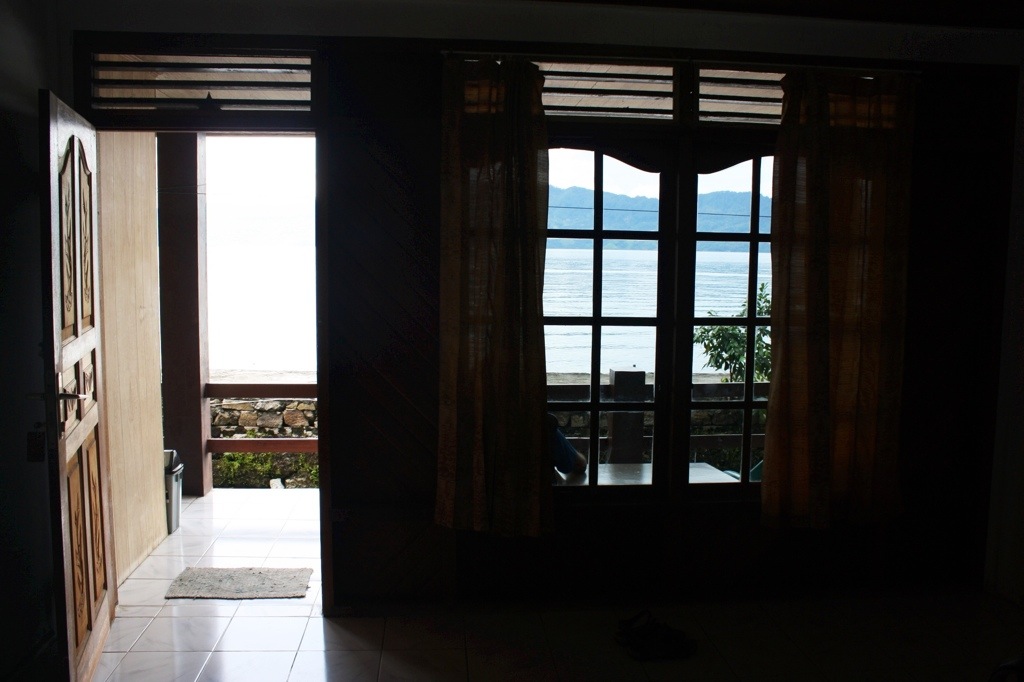 Oh wait, there was a balcony overlooking a beautiful koi fish pond separating our room from the lake. Yes, we were very happy.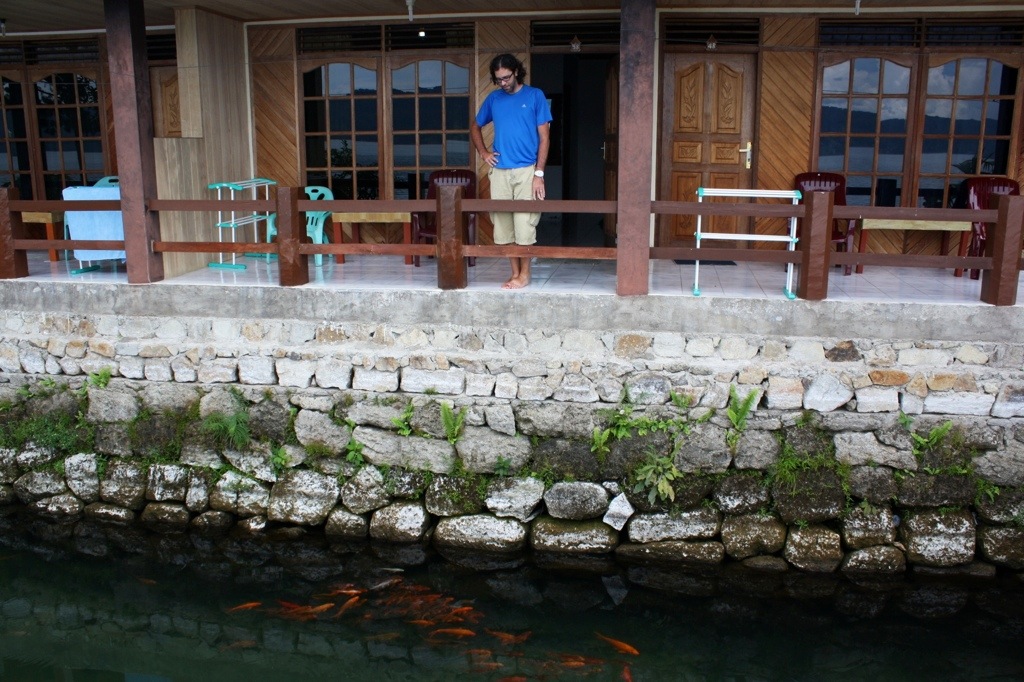 This was our view from the balcony:

After we picked up our jaw off the floor, we hopped in a shower after the long trip as we couldn't wait to explore this beautiful place. Stay tuned to find out what it had in store for us…