What to eat in Indonesia
December 28, 2012
While probably not the greatest foodie stop of our trip, food in Indonesia was consistently fair and of great quality. As other Asian countries, simple rice and noodle dishes dominate this country's cuisine. You can find tasty and cheap "rice specials" in simple mom and pop shops all over the country. We got this rice special on the beach in Bali and it was perfect: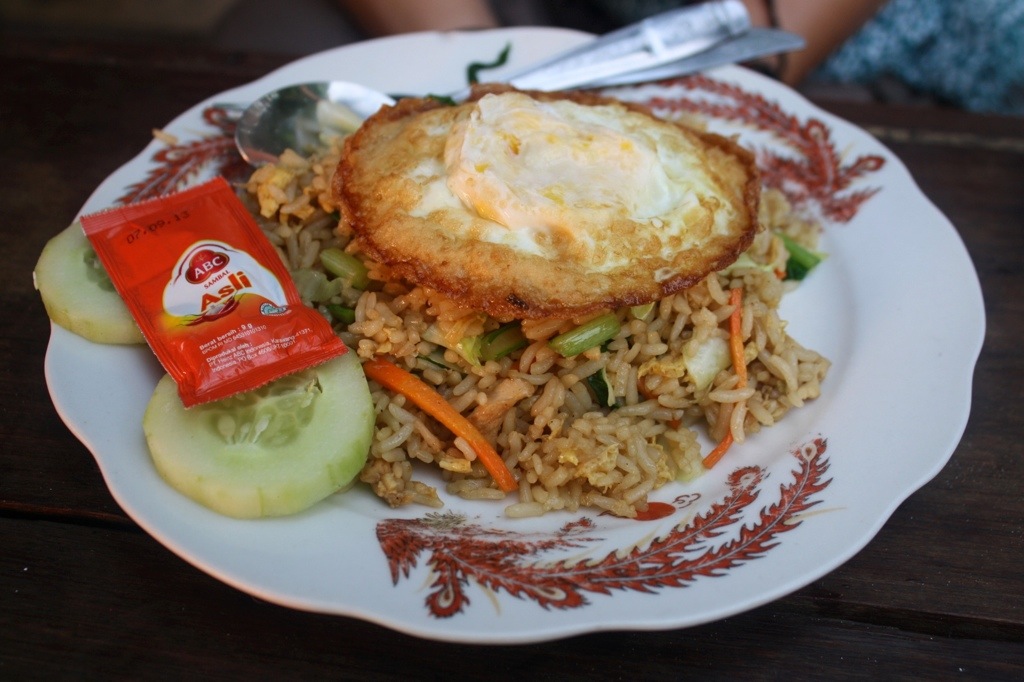 Your rice or noodle dishes often come with a side of a great view that makes the soupy noodles taste that much better.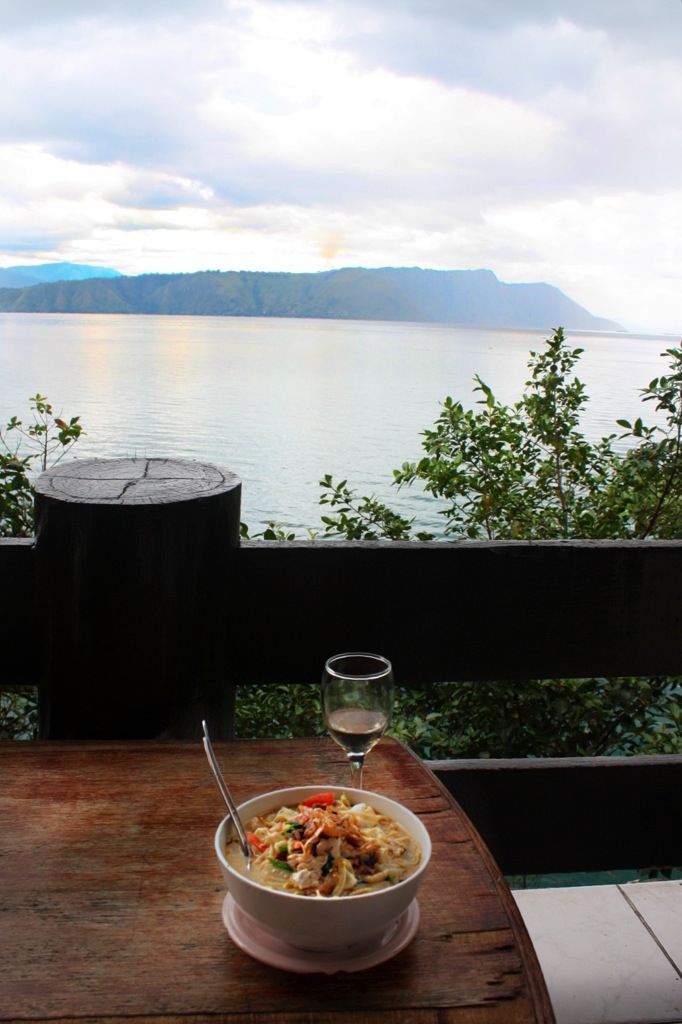 By the way, soupy noodles quickly became our "go to" dish of choice in our exploration of Asia.
When in Bali, don't miss out on the succulent pig experience, which we found out about from one of the episodes of Anthony Bourdain. As mentioned previously, we are big fans. Ibu Oka is the place to hit up in your search for succulency. It is conveniently located in a touristy area of Ubud and is very well known on the island for serving some of the best suckling pig or babi guling. Once there, you get to sit on the floor at an open air restaurant filled with both tourists and locals.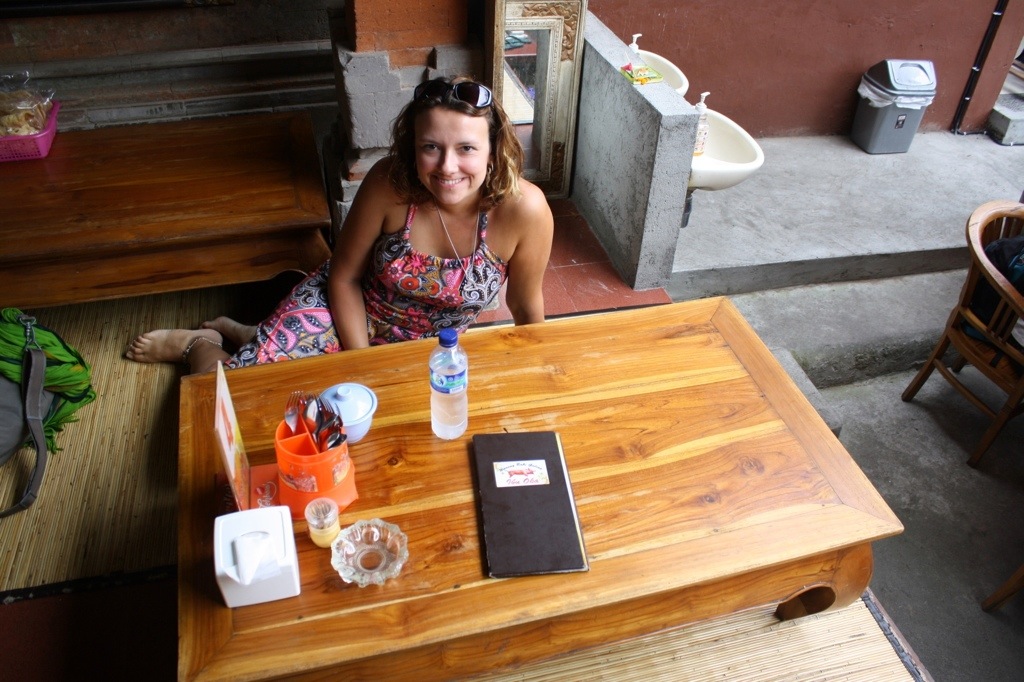 If you're vegetarian, stop reading here and close this window – it's about to get real. Make sure you order the combo platter. Surprisingly quickly, you will get a dish full of all sorts of rather interesting and largely confusing looking pig parts. Besides babi guling, you will find rice, small amout of vegetables, blood sausage and cracklings (crispy skin) on your plate.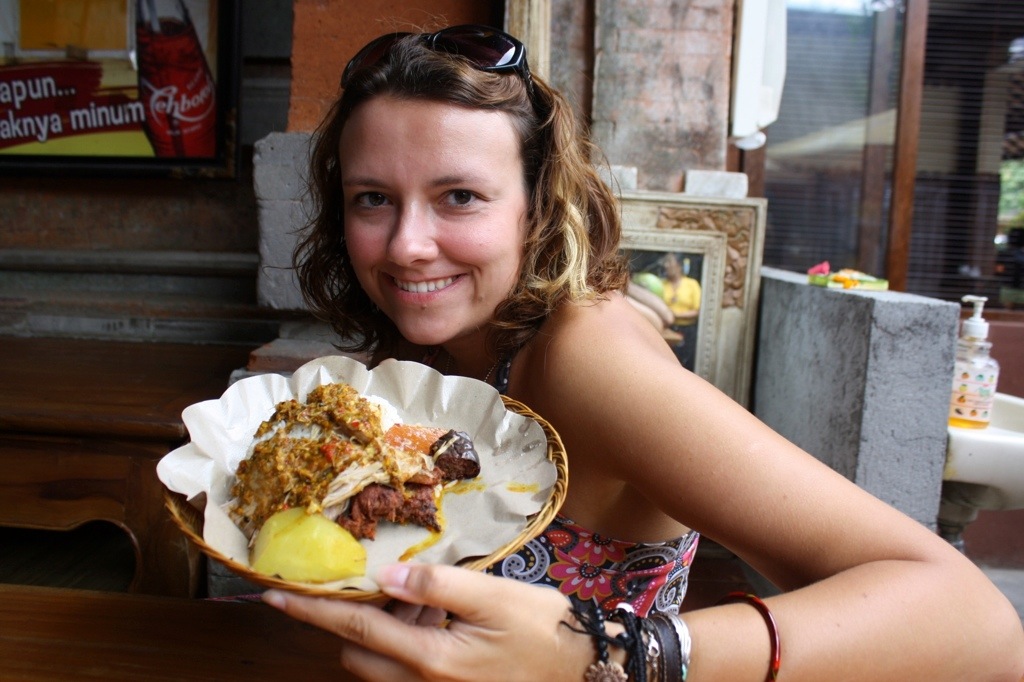 It's like a pork party in your mouth – the combination of smoky, salty and crispy flavors did not disappoint. As a fan of blood sausage (Aaron and I don't see eye-to-eye on that one), I can't say this is the best I've had but we both really enjoyed crispy skin. Aaron stopped at the piece that still had hairs on it. Of course that didn't scare me so I quickly gobbled that up as well. All this will set you back less than $3.00 USD per plate. All in all, I not only agree with Anthony Bourdain's recommendation for Ibu Oka, but also with his famous quote:
Your body is not a temple, it's an amusement park. Enjoy the ride.
If you find yourself on Samosir, Lake Toba (we highly recommend it), try the famous, local chicken à la batak. We recommend Joe's, which was steps away from our hotel and about 2 km from Tuk Tuk. It is a tiny, no frills family restaurant with a kind, friendly owner (the mom) who cooks your meal to order while her little daughter entertains you by asking clever questions in perfect English.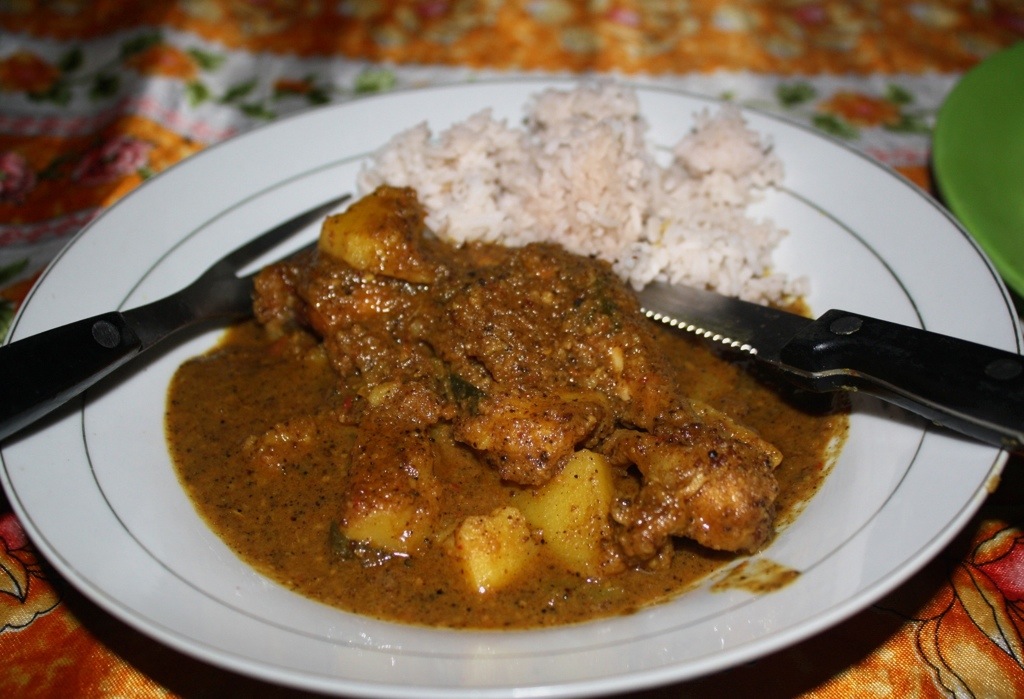 Also, you simply can't miss fresh fish straight out of the lake hugging the island. It's the best grilled fish I've ever had. Just look at it!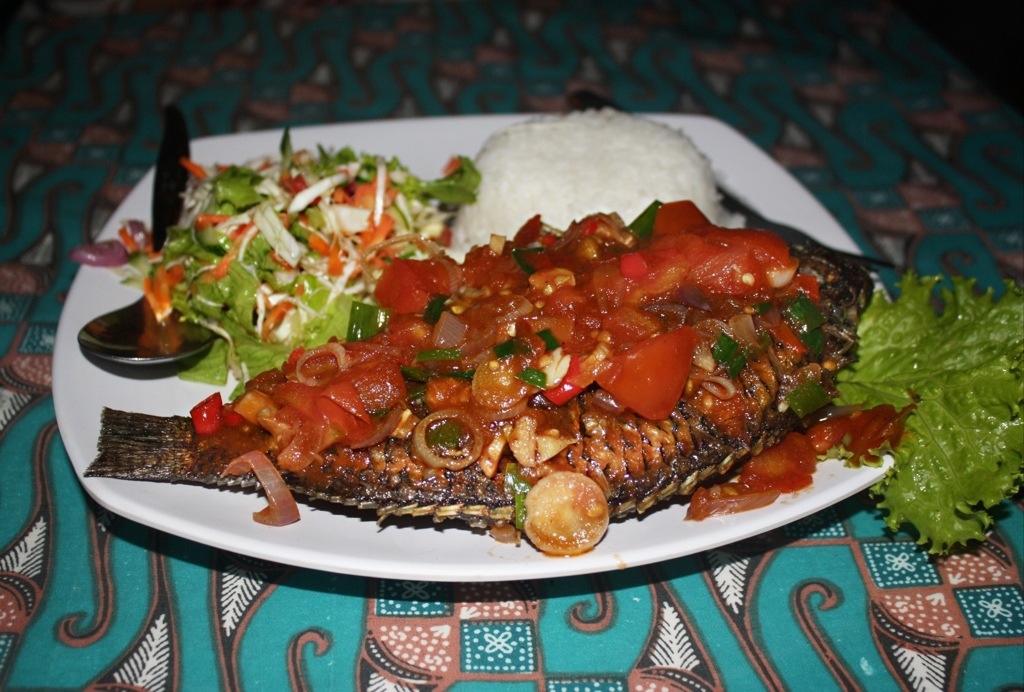 And of course, the brew of choice on islands of Indonesia is Bintang beer. So go ahead and chase the dishes this amazing country has to offer and chase them with this cold, light, tropical climate lager with the locals.