Hiking Through the Rainforest of Penang
February 10, 2013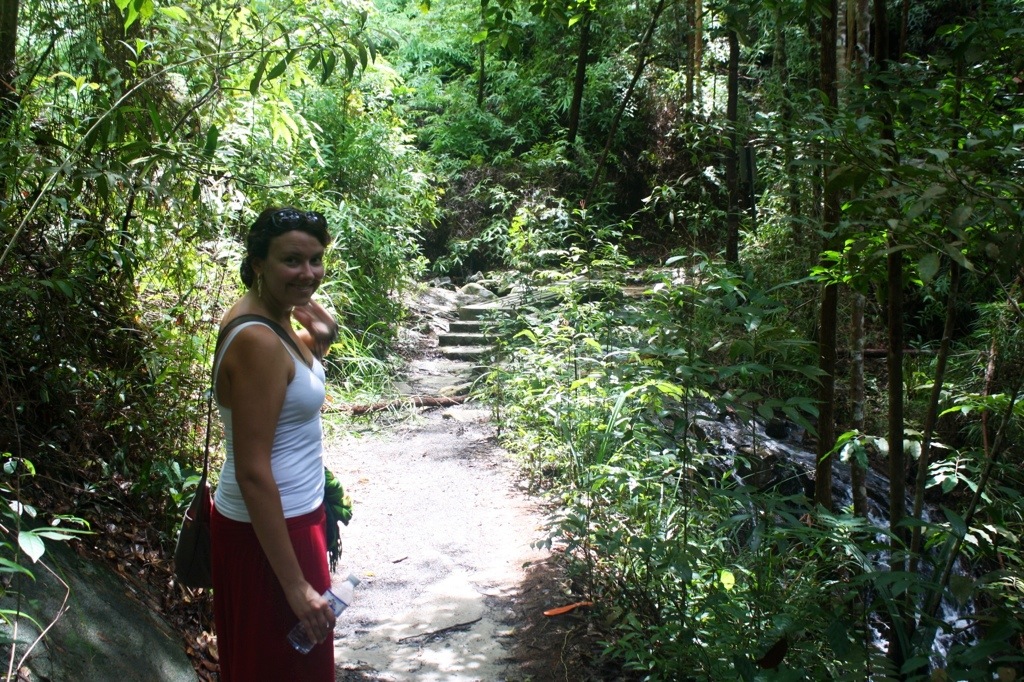 After thoroughly exploring Georgetown, we decided to get out of the city for a day trip to the Penang National Park. We decided to hike through the park and visit one of the beaches the park hosts. Seeing the words "National Park" we both assumed we will spend a day leisurely walking through another park. We'd later find out that this was a faulty assumption. Yet, we did little homework before starting our day and hopped on a bus number 101 from the city center, which conveniently takes you right to the park.

When we got there, we got a couple of waters to help us battle the increasing heat. While we were getting the waters at the entrance, a couple of Malay guys were trying to sell us a boat ride to the Monkey beach, which is the most commonly visited beach in the park. We kindly declined and explained that we will be walking to the Turtle beach instead. They gave us a strange look, which we thought little about at the time, and set off on our journey to the much less inhabited Turtle beach or Pantai Kerachut, which is favorite nesting spot for endangered sea turtles. Our hike was going to be 3405 meters or just over 2 miles one way, which at the time we thought was child's play…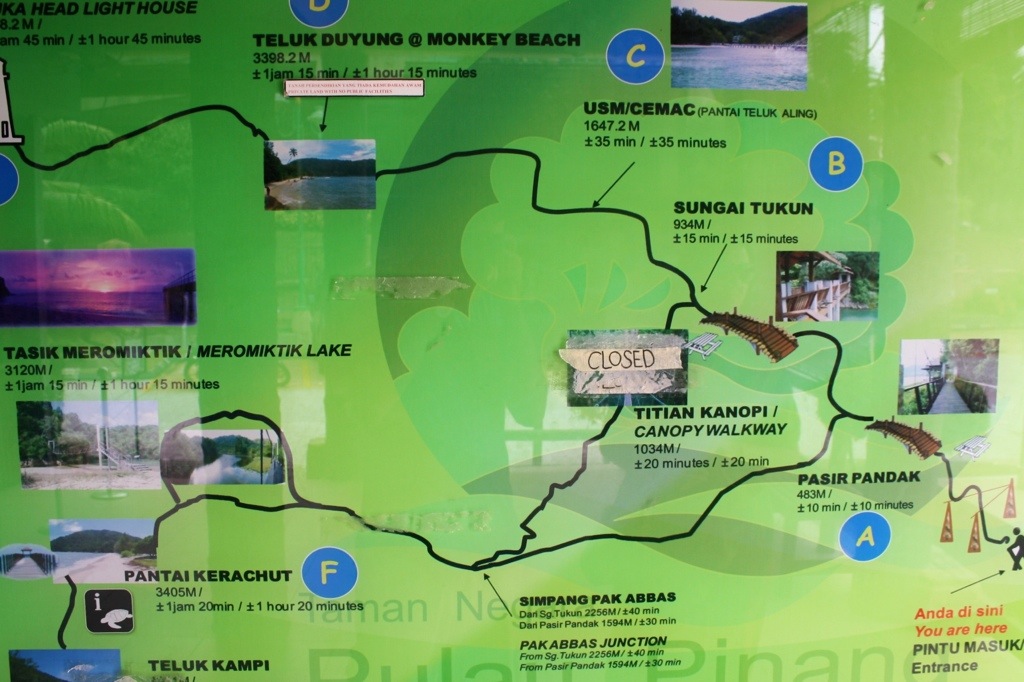 So we were off…We had no idea what we are getting ourselves into. What we didn't know then is that this 1265 hectare site holds 1381 hectares of wetlands and 80 hectares of virgin jungle. The treks through the park are not paved. The trails in the park are completely nature trails, with only a handful of concrete steps for hikers. Most parts of the trails were mud with most steps been naturally formed from tree roots. It is also a home to estimated 417 flora and 143 fauna species. We were welcomed by some of them as soon as we entered the park: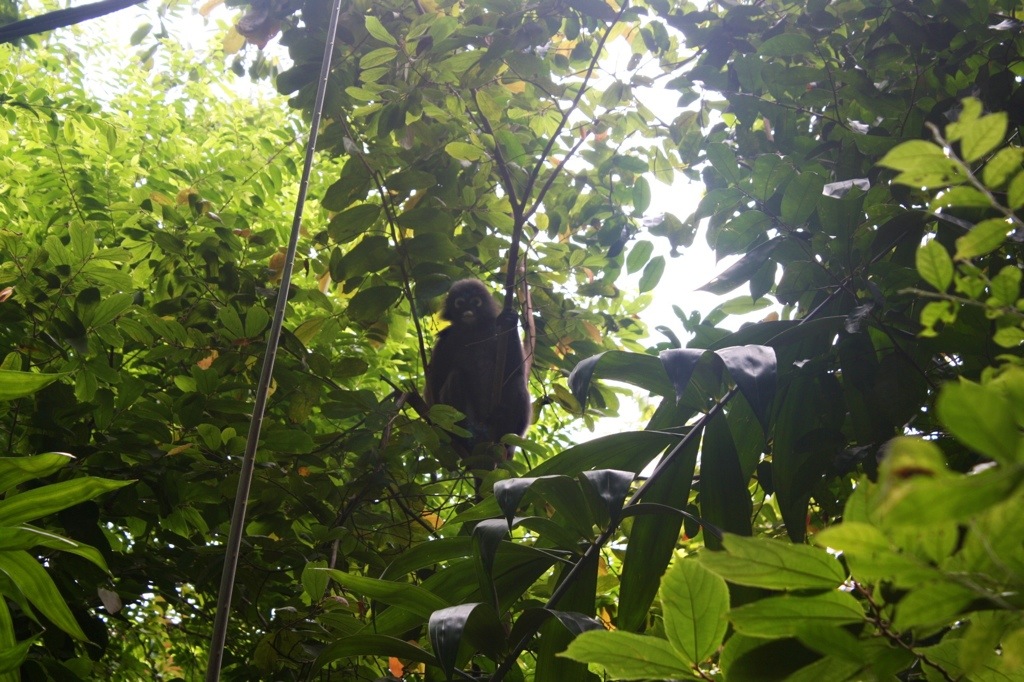 In the beginning of our journey I noticed moving in the bushes right next to us and we spotted a monitor! A first for me so I was very excited and even tried to run after a couple of them. Alas they are much quicker than I am and they disappeared into the water before we could get a shot of of one of them: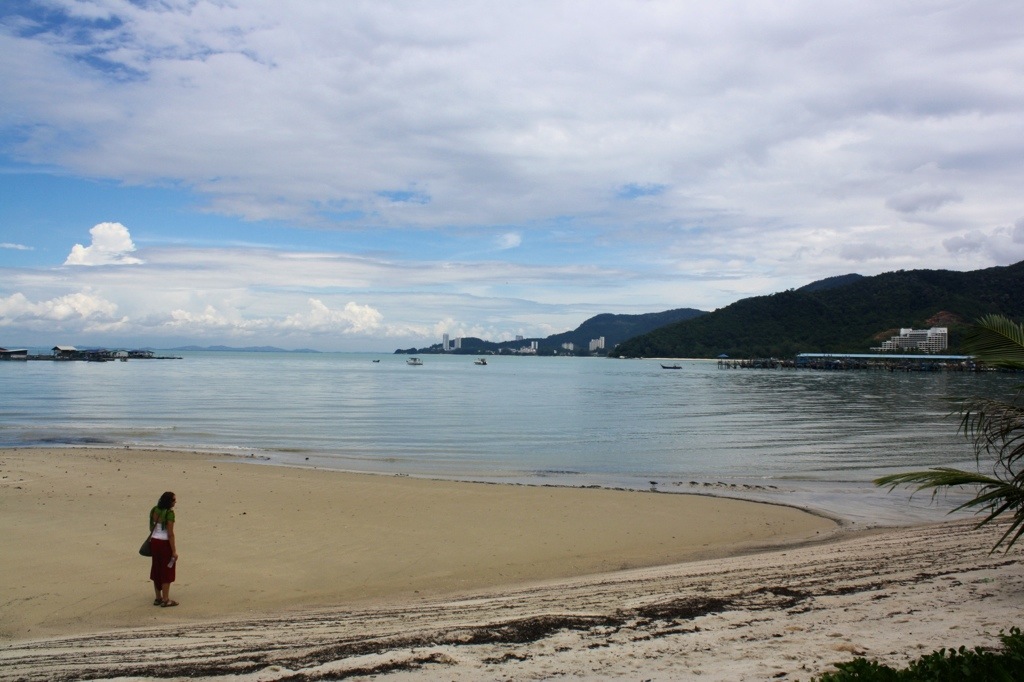 Excitement quickly turned into uneasiness when the journey that started out on a very nice, clean and paved sidewalk, suddenly turned into a muddy track just a few minutes in. Most of the track was also uphill. We were not prepared for a full on rainforest hike but we didn't turn around – just kept climbing. While we were both hot and quickly out of water, we were enjoying our unplanned adventure.
The forrest was very loud while we were trekking it. We heard a live harmony from species that were just going about their day. There was a constant, loud hum coming from insects, ruffling in the bushes coming from some mysterious animals that were doing an outstanding job camouflaging themselves from us and monkeys jumping from tree to tree above our heads and stopping only to curiously gaze at us. All of this was set to a melody coming from colorful, tropical birds. We were guests. This was their world and we were just lucky to wander through it. We only saw a couple of people at the end of the trek so we were alone – us and the live wonders of rainforest.
After hiking up another huge hill on our trek to the beach, we turned a corner and saw a creek with clear water to cool down in – our feet were happy: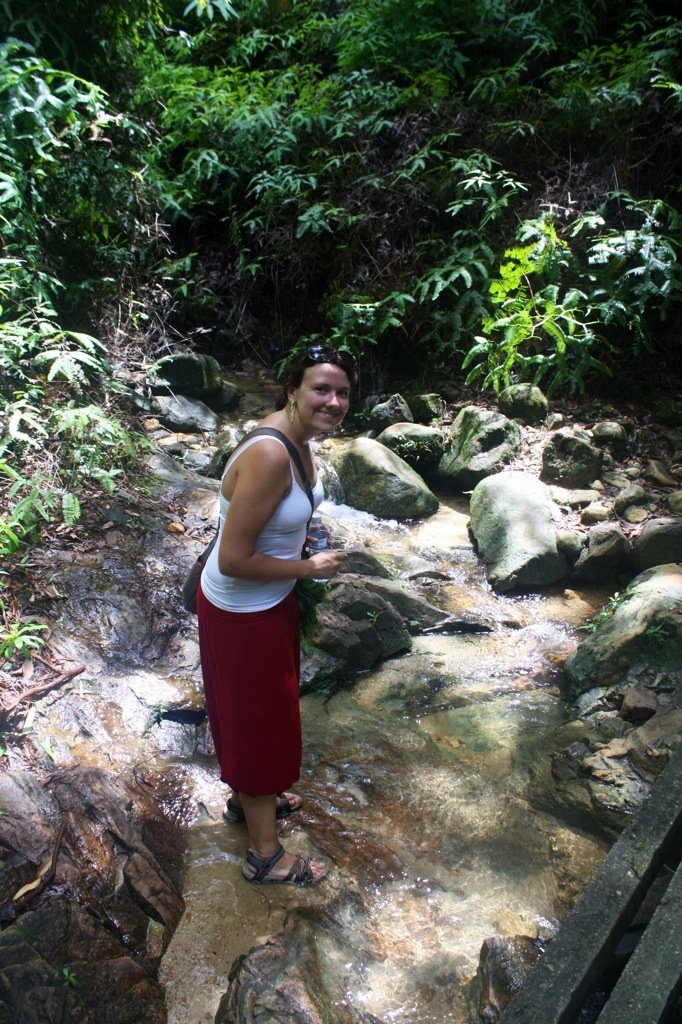 The hike took us about 80 minutes and I'd guess a few calories as we both felt challenged hiking this path in the heat. We wished we got a couple of bottles of water. We were both proud of ourselves and excited to reach our destination to relax on the beach.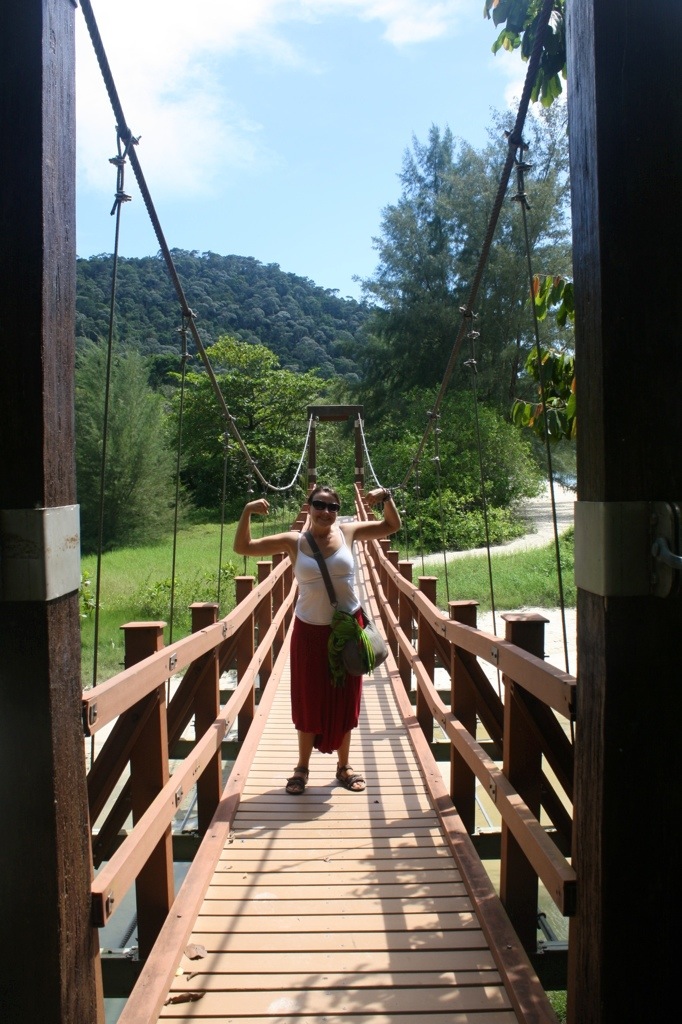 The beach wowed us! It was beautiful and deserted. Can you see that little speck on the beach? That's Aaron. We had this view all to ourselves: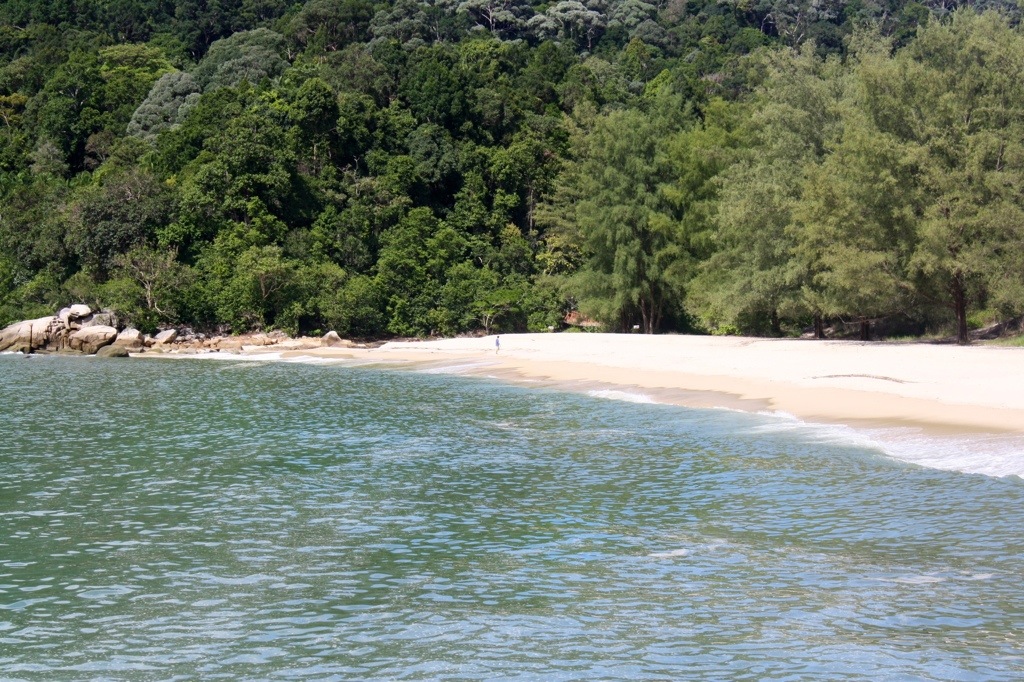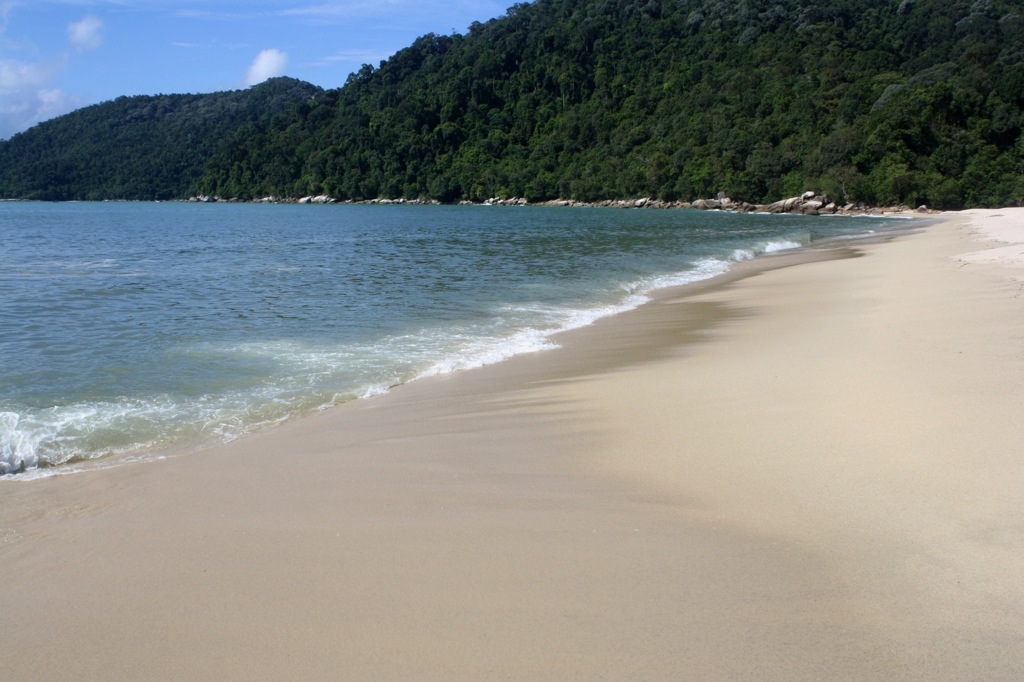 Unfortunately we had to leave and head back before long. We also didn't get to see any turtles on the beach that day. Turtles come out at night typically so if your goal is to spot some turtles in Malaysia, plan to camp out in this area of the National Park. We saw functional and quite nice camping spots around the beach.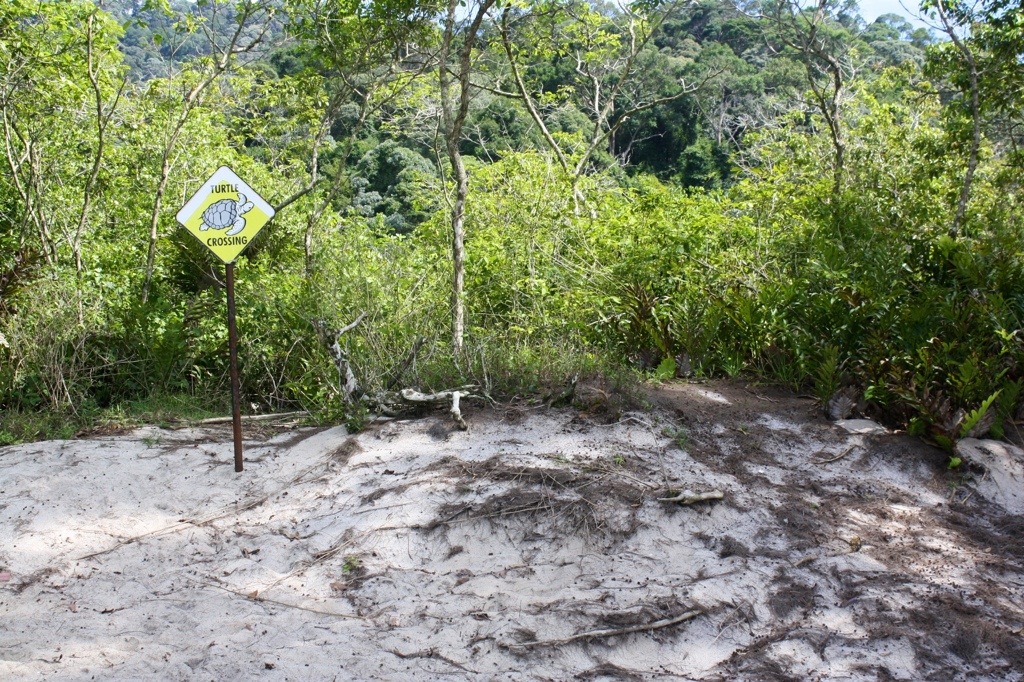 All in all, it was a fantastic day. We both enjoyed the nature and trekking. We vowed to ourselves that day to do more active hiking trips in US and abroad. Machu Picchu and El Camino de Santiago are on our short list.